RIVERWATCHER-CS
---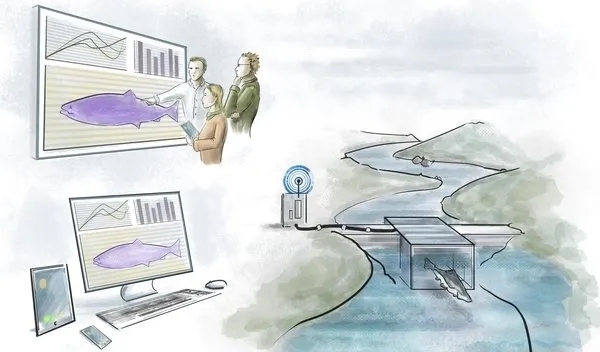 RW-CS is the largest model in the Riverwatcher family and it combines both IR scanning and video technology in one system. It comes with a stainless steel camera tunnel, underwater infrared and white LED lights, multiplexer, Infrared scanners, HD camera and high performance computer operating our special software to count and monitor the fish. It will count fish in both directions, log the temperature and measure size of the fish.
Silhouette, data and video of each fish is securely stored in a cloud (Riverwatcher Daily) where it can be accessed by the user and edited in a simple web based tool.
The customer can decide on three levels of sharing data:
1) open to public
2) overview or
3) log in required
Automatic species recognition is also available for this model.
BEST RESULTS WITH DUAL TECHNOLOGY APPROACH
The infrared scanner consists of two scanner plates (20 x 60 cm) inside a frame, the distance between them being from 10 to 45 cm. Inside the scanner, light diodes send infra-red light beams to receivers on the other side. When a fish swims through the net of light beams, the resulting silhouette image is used to count and estimate the size of each fish. Each individual image is saved in the software so that the counting can be verified afterwards.
The Photo tunnel ensures optimal image and video quality. The standard tunnel is 160 x 105 x 63cm (L x W x H) and is fitted with the infrared scanner and the underwater digital camera and lights. Standard opening is 40cm.
The tunnel ensures that the images are captured under controlled and constant lighting conditions, as well as the optimum position and distance of the fish to the camera.
Lights can also be time controlled to e.g. switch to IR light during nighttime
Live video from the camera can be viewed in real time on the RW computer screen. Any device connected to the internet can also display a live stream or a looping recording of the last fish seen.
SOFTWARE
The Riverwatcher Daily is an addition to the Riverwatcher product line. It makes it easier to access statistics and videos of all fish in the river. Users can view real-time information from anywhere and see what is going on in the river at any time. Counts and charts available without having to download data and start a specific software. Reports are available for any chosen period of time. All data securely stored and accessible on your private web account. Alerts can be sent to any registered users.
BUILT TO LAST
The RW-C type is built like a tank and is proven in harsh conditions around the world. It is an excellent long-term monitoring solution to count and identify fish.
MAGNUS ILLUSTRATES HOW IT WORKS
CAMERA TUNNEL
LIVE VIDEO FEATURE