KNOW YOUR RIVER
COMPARISON OF MOVEMENT PATTERNS OF FISH FROM ONE YEAR TO ANOTHER

KNOW YOUR RIVER
AUTOMATICALLY GROUPS FISH IN SIZE CATEGORIES AND STORES IMAGES OF EACH INDIVIDUAL
VAKI RIVERWATCHER
---
FOR RELIABLE RIVER STOCK MANAGEMENT
Many years of development and research the Riverwatcher has a proven track record of reliability and accuracy. The Riverwatcher is in operation to monitor fish migration patterns in over 500 rivers world-wide in a wide variety of fish ladders, weirs and passes many in exposed conditions. Several different installations options are available to suit almost any river and location. The Riverwatcher can be custom made to fit special needs.
FISH FRIENDLY MONITORING SOLUTIONS FOR YOUR RIVER
---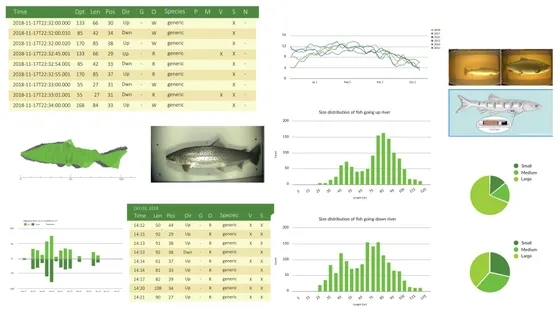 FEATURES OF THE RIVERWATCHER
---
The Riverwatcher is installed in fish ladders, pools, traps or similar places where all the fish in the river have to pass.
The Riverwatcher is used to monitor fish migration. Using infra red scanning technology and high resolution cameras it is possible to recognize different species and validate the counts with silhouette images and photos. The Riverwatcher is used in more than 500 sites all over the world including Iceland, Scandinavia, Ireland, UK, USA, Canada, Spain, Portugal, Poland, the Czech Republic, Germany and Switzerland.
MAIN FEATURES
Counts fish with more than 98% accuracy.
Measures the size of each fish with more than 95% accuracy.
Stores an image of every fish.
The water temperature is measured at frequent intervals.
Power can be supplied from solar panels and a deep cycle battery.
The counter can easily be adjusted for use in all fish ladders, dams, traps and similar places.
Storing and presentation of all data from a data cloud.
Remote control and access.
Infrared scanning and video monitoring options.
It is possible to connect several counters together and monitor rivers where there are no fish-ways.
ADVANTAGES
Comparison of catch figures and the migration patterns to calculate the exploitation rate.
Year to year comparison of migration patterns.
Evaluation of the results of rearing and smolt releases.
Assessment of the influence of different environmental factors.
Fish-way efficiency evaluation.
Valuable data for better fisheries management.
Identification of species, sex, wild/farmed fish etc.
RIVERWATCHER ANIMATIONS